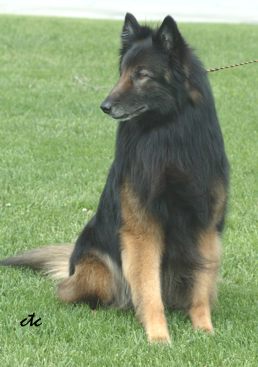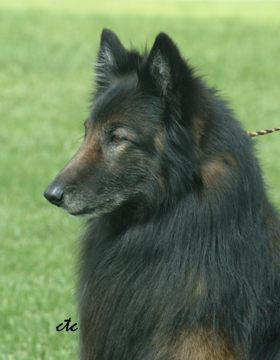 DOB: May 3, 1993 - Died 11/29/2004 at 10.5 years of age Breeder: Shirley LaBarge & Suzanne Hutchison
We lost our first male suddenly to what turned out to be a ruptured splenic hemangiosarcoma. His outgoing personality and fine style were admired by all who met him. Most visitors to our home were treated to Antigua meeting them at the door with a toy in his mouth. He was one-of-a kind and is sorely missed by us.
We will treasure his memory and his legacy, he sired 5 litters, the last of which are just turning one year of age. His offspring can boast of championships, obedience, agility, tracking and herding titles, but most of all, being fine and treasured companions to their people..... and that is one of the best legacies that any dog can leave

It hardly seems possible that over 10 years have passed since I brought home a big red fuzzy puppy from Wisconsin. Antigua has been all I'd hoped for at the time and much more. Easy to live with and with an outstanding, people loving character, he's brought us a lot of pleasure. A multiple Herding Group winner and placer, he still loves to show off in the breed ring - our trip to the ABTC National specialty was 'just for him' -- and he came home with rosettes from both his Veterans and Sweeps classes. The photos above were taken two weeks after he turned 10 years old.