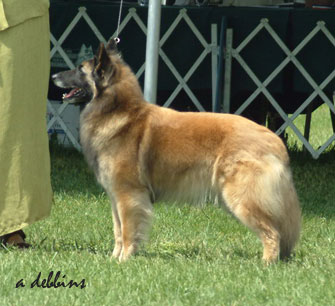 DOB: March 14, 2001 Breeders: Carole Corbin & Vicki Kelley -- photos -- new Ch photo, show photo by Andrea Debbins, Diva and Brennah (3.5 weeks of age)
Brennah is co-owned with Jane Wheeler of NY


"Brennah"
A daughter of the outstanding Ch. Corsini La Diva, I feel very fortunate to have her in my home...Vicki had offered me one last litter with Diva, but it was too hard on all of us to ship her to and fro for breeding. Instead, I asked if I could take Brennah home and after much deliberation, Vicki decided that since she had Diva who she could breed, and still owned me a puppy or the price of one from Diva's second litter with Journey, I could have Brennah. I can never thank her enough for letting her come back to PA!
Brennah fit into the household beautifully and finished her Championships quickly with style -- a trip to Westminster in 2007 was unsuccessful in the show ring, but it introduced Brennah to her new co-owners, Jane Wheeler & John Potter of NY who were impressed with our girls character during the hustle and bustle of the Garden! We hadn't been looking ffor a new home for her, but it seemed fated. Brennah nowlives about 1.5 hours away from us and will be kept busy doing obedience and therapy dog work! We may still take in the occasional dog show, but I know Brennah is active and well loved in her new residence. Best of all, she easily certified for her Therapy Dog Certification and does weekly visits in elder-care facilities where she is a huge hit with the residents.

We will be having our "I" litter with Brennah the Summer of 2008. The sire will be Talon, AKC/UKC Ch. Chimeric Desperado, CD RN TDI. One of the photos above is of Brennah and Talon taken in May 2008.

Brennah is the dam of our 'F' litter and the Darboshea Thrill litter



Note: you may see her name listed as above...and as Chimeric Bedazzled. She's the same dog, same breeders <g> it's just that she no longer lives at Darboshea so when her paperwork for UKC was done, it was dropped.