the Chimeric 'G' litter.... we're going to 'do it again'!!!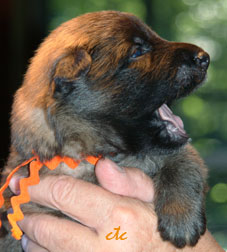 they're gggrrreat!! 5 males/3 females arrived 07/06/05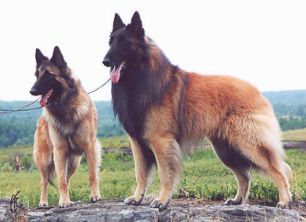 We are so very thrilled with our 'D' litter from the union of Matisse x Xena that we've decided to repeat the breeding - Xena began her late Spring vacation in Maine on May 1st.
The 'D' litter of 5 has impressed us with their incredible temperaments, beauty, health, loving attitudes and agility! Three are AKC Champions, Two are UKC Champions, another is close to his UKC Ch title and another has already earned an AKC Master Agility title and another just earned his AKC NAJ! One of our males, Talon, Ch. Chimeric Desperado, CD is a working Therapy Dog.
Some litters are worth waiting for.... we think that based on the 'D' litter, this breeding will be well worth the wait! We expect similar results from our G litter - dogs that are up to doing anything their owners are! Our girls are spoken for but we will compile a 'backup list' We are also compiling a backup list for males.
We will be doing a co-breeding in Fall of 2005, inquiries invited.
Please click the 'pedigree' button below for health clearances.
Meet the 'G' litters older siblings, the 'D' litter below.....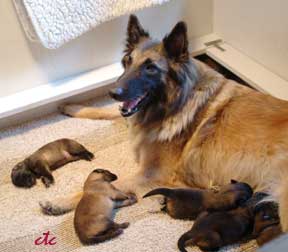 the Chimeric 'D' litter
UKC Grand, AKC/CKC Ch. Winjammer's Bien Vu, SCT x AKC/UKC Ch. Chimeric Archipelago Afterglow, HIC
3 males, 2 females born September 27, 2002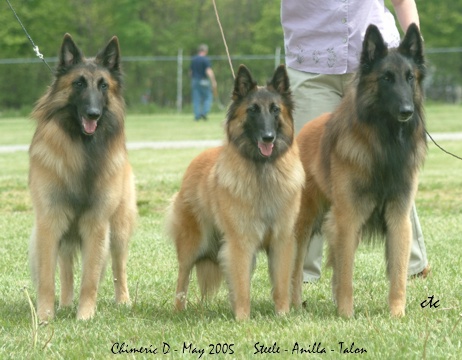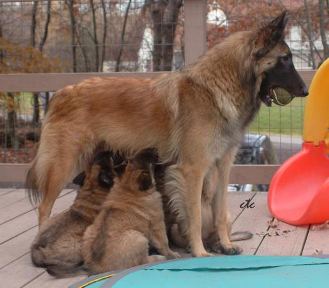 Xena & Matisse were 'pledged' as puppies when they both won their sweeps class at the 1999 UBSDA National specialty.
Their union produced:
AKC/UKC Ch. Chimeric Desperado, CD TDI 'Talon' Ch. Chimeric Do It Again, NAJ 'Steele'
Chimeric Drops of Jupiter 'River' Chimeric Daydream Believer, MX MXJ 'Faith'
AKC/UKC Ch. Chimeric Drift Away 'Anilla'
We are very pleased with this litter -- and we're especially proud that 4 of the 5 have completed all their health testing - we have 4 passing hips and elbows, 4 passing CERF and two of the four have had their Thyroid tested and passed by MSU. We're hoping eventually that all 5 littermates will have all their health testing done.
The photos above are (left) our three AKC Champions from the 'D' litter - Ch. Chimeric Do It Again, NAJ (Steele), Ch. Chimeric Drift Away (Anilla) & Ch. Chimeric Desperado, CD (Talon). The photo at right is Xena with the 'D' litter.