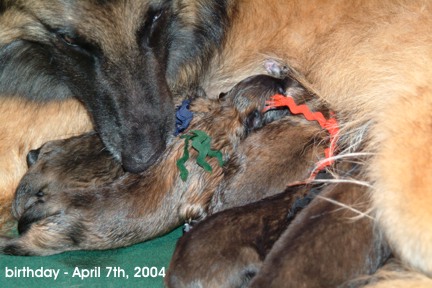 There are times in a breeders life where you just have to wonder if the dogs know something you don't.... this litter may be one of those times. Some time ago, we'd considered doing this breeding, but had decided to use a different male and wait until her next season for a Fall litter. Antigua had other ideas ... For a dog that will be 11 years old in May, on February 7th he surprised me by jumping over 3 separate gates, one of which was well over 4ft. tall to have a liaison with Brennah.
I'd told a lot of people I wasn't planning a Spring litter as it would interfere with my plans for dog shows... well, a lot good planning did! The pups were born on Wednesday afternoon, April 7, 2004. We have 3 males and 1 female.
All the pups are spoken for at this time - We are interviewing prospective homes and compiling a waiting list for our 'G' litter which is planned for later this year.